For International Booking

Nathalie Hébert

nathalie@cirqueandsome.com

For Scandinavian Booking

Pange Öberg pange@unitedstage.se
After a successful premiere and 13 Sold-out show at Orionteatern in Stockholm last January 2016
GYN♀IDES -CIRCUS FEMALE INTELLIGENTSIA
is making touring plan for the future!
In the mid time read the reviews here
"The performance directed by Marie-Andree Robitailles sweeps along like one big breath of oxygen rewarding natural women/human power, we meet seven artists who completely lives up to the Performing Arts Agency subtitle Circus female intelligentsia". Dagens Nyheter
MARIE-ANDRÉE ROBITAILLE – GYNOÏDES
Interviewed by Women &

Circus

Circus Now August 28th 2015
"Gynoïdes is a response to the objectification of women's bodies in circus arts, and to the stereotypes that are generally perpetuated within the discipline...I have become ultra aware of how women are portrayed in performances in addition to how their roles are established and what place these roles occupy in the show. I am developing methods of work that resist the habitual sensationalistic reactions that we have come to expect from circus performance. I want to explore and generate alternative narratives when it comes to a woman's presence on stage."
December 2014
Marie-Andrée Robitaille share her experience as a circus artist in Hum Sabla a jourmal edited by the Hindi feminist Collective JAGORI.
JAGORI means "awaken, women!" The mission is to inform, inspire and empower. The endeavour is to reach out to women in increasingly innovative ways. JAGORI celebrated in 2014 its 20 years of existence.

Hum Sabla is a Hindi journal celebrating women's lives and achievements and highlighting contemporary themes of gender justice and women's rights. The magazine is designed to meet the expanding knowledge needs of grassroots women's groups, activists and NGO workers, and is a major tool for advocacy on a wide range of issues.
www.jagori.org
January 2014
Extract of
Freak
Article by ANNA HAKANSSON
A perusal of one of the mammoth compendiums on the subject, such as Taschen's The Circus, 1870–1950 (2008), inevitably involves being inundated with images of the female circus artist, a curiosity in the true sense of the word. Tightrope walkers in sequins and feathers, snake-charmers and performers who are so covered in hair it is impossible to tell their gender, as well as images that simply cannot be defined. What I remember most from my own visits to the circus as a child is all that glitter and the incredibly beautiful female bodies in particular. Just think of Pia Degermark in Bo Widerberg's Elvira Madigan (1967). In recent years some of Sweden's more prominent traditional circus shows have been entitled 'The Circus Princess', with beauty and skill serving as the basis for a veritable coronation of the female circus artist as both dream image and projection surface. The female body as spectacle. A research project is currently under way in Sweden into women and the circus under the aegis of DOCH (The University of Dance and Circus in Stockholm). The name of this project is Gyno.des (a Gynoid is anything that resembles or relates to the human female form). The project focuses on the female circus artist and how she experiences and understands her own practice. The goal is to gain a broader understanding of what it means to be a female circus artist in the 21st Century, and the project aims to identify, describe and produce feminist strategies in circus composition. A first consortium was held at the end of December 2013 under the leadership of the project's initiator Marie-Andr.e Robitaille. The Canadian Robitaille has been performing as a circus artist since 1998 and has toured in 27 countries. In her case, she has managed to transcend the established gender order by learning to master the Chinese pole, traditionally practiced solely by men. In her view the female circus artist has not only been subordinate in terms of her practice, with the majority of directors, producers, etcetera being men, but also in relation to the gender analysis of circus, a field in which theoreticians have constituted the majority."
Read the rest of the article here
www.unpackthearts.eu/articles
April 2014
Stradda, Circus creation Magazine by Hors les Murs
Report on the rapid development of Nordic Circus arts.

"The debate is open, Scandinavian artists and academics, in a politically correct manner, discuss sexual identities from a feminist perspective. At the University of Dance and circus , DOCH, québécoise Marie-Andrée Robitaille, former artist's at Swedish pioneer's circus company Cirkus Cirkör, is now head of the bachelor of fine arts in circus, practices gender studies, applied to circus arts. Robitaille is conducting studies on the agency of women in circus and elaborate feminist strategies in circus composition. From all points of view, she is in the right place. So Skål!." Thomas Hahn.
January 2014
Gynoïdes in New Atmosphere.
Women in circus consortium and Bêta Test V Reviewed in Danstidningen in Sweden.
Marie-Andrée Robitaille Bêta Test V Women in Circus Consortium December 2014 Gynoïdes Project CirkusPerspektiv Sweden
Marie-Andrée Robitaille Bêta Test V Women in Circus Consortium December 2014 Gynoïdes Project CirkusPerspektiv Sweden
January 2014
Marie-Andrée Robitaille on the Gynoïdes Project Bêta Test V in Side Shows Magazines (UK).
Gynoïdes Project Picture Einar kling Odencrants Artistic director: Marie-Andrée Robitaille Artist on the picture: Alexandra Royer Beta Test III
With a series of artistic research phases known as Bêta Tests and an academic line of enquiry lasting several years, the Gynoïdes Project is a wide-ranging operation aimed at creating alternative, feminist strategies for circus creation. Here the artistic director, Marie-Andrée Robitaille, talks about the project's objectives, about the expectations and pressures placed on women in circus, and about the sonification of circus equipment – a strategy developed during Bêta Test V.
Read The article here
Marie-Andrée Robitaille was interviewed by John Ellingsworth 25 October 2013 at Le Circ in Auch during Festival CIRCa.
This interview was produced as part of the project Deconstructing Circus with the support of Arts Council England.
November 2013
Women in Circus Consortium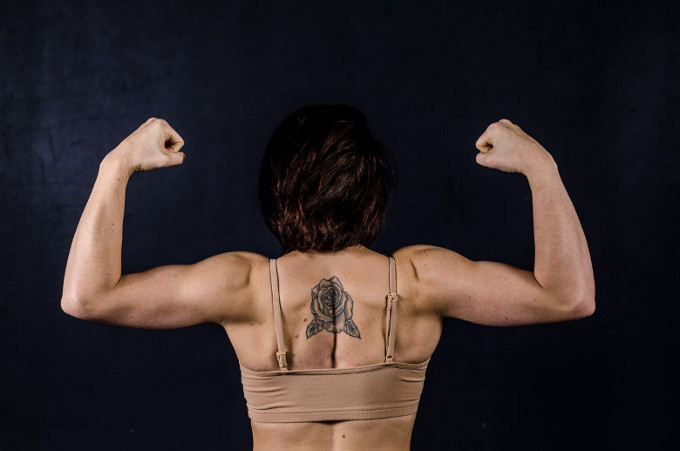 An initiative of the multidimensional Gynoïdes Project, the Women in Circus Consortium is a one-day seminar/event looking at the question of women in circus through keynotes, lectures, discussions and performance extracts.
The key speakers for the event are Camilla Damkjaer, a circus/dance researcher who teaches at DOCH in Stockholm and who'll present on 'The Questions of Gender in Circus'; Helene Hermansson, whose research concentrates on 'ethics, the philosophy of risk and feminist philosophy' and who'll give a talk titled 'Rights at Risk'; Helene Frichot, from the School of Architecture and the Built Environment, who'll speak on 'Feminist Thinking in Architecture'; Marie-Andrée Robitaille, the artistic director of Gynoïdes, speaking about the findings of her project in 'Women in Circus – Feminist Strategies in Circus Composition'; and Rebecca Vinthagen and Lina Zavalia, from the organisation Settings, talking about their work adapting feminist and normative critical theories to create a practical creative campaign in 'Setting creative norms'.
The event takes place in Stockholm, Sweden on 18 December 2013 from 10am - 8pm, in Cirkör LAB in the morning and at The Royal Institute of Technology's Experimental Performance Space & Presence Laboratory in the afternoon and evening. For the full programme see here.
The event is free to attend, but places are limited and registration is necessary. If you'd like to go send an e-mail to womenincircus@cirkusperspektiv.se
www.sideshow-circusmagazine.com
http://sideshow-circusmagazine.com/map/news/women-circus-consortium
May 2013
BÊTA TEST V
REVIEW
August 2012
BÊTA TEST III
REVIEW
Anders Löwdin on 20 augusti, 2012 – 21:14 www.kulturbloggen.com
Gynoides Project – Beta Test III
Kulturfestivalen lörd 18:e augusti 2012

Sergels Torg, Stockholm, Sweden
Gynoides Project – Beta Test III kom att avsluta Kulturfestivalens aktiviteter på Sergels Torg. En avslutning med klass måste jag säga. Vi får här se kvinnliga cirkusartister i världsklass utföra något halsbrytande vackert och smakfullt. Föreställningen, som har tagits fram för Kulturfestivalen och Sergels Torg, är en del av ett forskningsprojekt av Marie-Andrée Robitaille, högskolelektor i cirkus vid DOCH, Dans och Cirkushögskolan och kretsar kring ämnet kvinnor i cirkusen.
Ja, detta var det bästa jag såg på årets Kulturfestival.
Medverkande artister: Alex Royer, Kajsa Bohlin, Stina Maria Kopra, Anna Lagerkvist, Lotta Paavilainen and Manda Rydman.
Regissör Marie-Andrée Robitaille
Producer : CirkusPerspektiv Sweden Co-producer : Groundfloor
With support of : DOCH and Swedish Art Grants Committee.
Anders Löwdin on August 20, 2012 - 21:14 www.kulturbloggen.com
Gynoides Project - Beta Test III 
 Culture Festival Sat 18th Aug 2102 
 Sergelstorg, Stockholm, Sweden.
Gynoides Project - Beta Test III came to conclude Culture Festival activities on Sergelstorg. A conclusion with class I must say. We saw here world-class female circus performers, performing some daredavil skills; beautiful and tasteful. The show, which has been developed for the Culture Festival at Sergelstorg, is part of a research project by Marie-Andrée Robitaille, senior lecturer in circus at DOCH, University of Dance and Circus and revolves around the topic of women in the circus.
Yes, this was the best I saw at this year's Culture.
Participating artists: Alex Royer, Kajsa Bohlin, Stina Maria Kopra, Anna Lagerkvist, Lotta Paavilainen and Manda Rydman.
Director Marie-Andrée Robitaille, 
 Circus Perspective Sweden
Co-producer: Ground Floor
With support of: DOCH and Swedish Art Grants Committee.
March 2012
BÊTA TEST II
Article